Shared Prosperity in a Globalized World
University of Zurich, Auditorium, KOH-B-10, May 7, 2012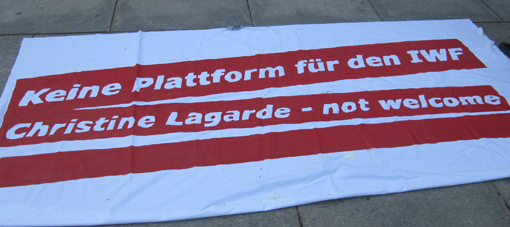 Rarely does a speaker commend such attention. Christine Lagarde, the managing director of the International Monetary Fund, provoked a demonstration in front of the University of Zurich: Students opposed to the policies of the International Monetary Fund IMF had their transparencies with them (see picture above). The campus therefore abounded with security personnel. But there were also several hundred people who had come to listen to Mrs. Lagarde share her views of how to manage the currently difficult situation of world finances. There were so many that the speech had to be broadcasted into several other lecture rooms.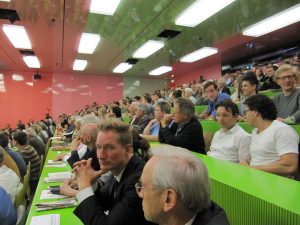 To have a better future for all, she argued, there must be growth in the short, medium and long term. Each country should implement a customized number of policies including the areas of banking, housing, taxes, product and labor markets. In addition the entire world economy should be rebalanced and secured with a financial safety net. She insisted that growth and austerity are not mutually exclusive, but can work together.
What about Mrs. Lagarde's presentation skills? She has many strengths (+) and a few areas for improvement (-).
+ Alliteration / play of words: "Share the gains in good times; share the pains in bad times."
+ Use of "we" made the audience feel as one with her, e.g.: "We dare not fail. We are all together in this. Let's make no mistake – it's easier said than done."
+ Eye contact: She had her material down cold. Therefore she could at anytime look into and connect with the audience.
– structure: On the one hand very structured, but then so many subpoints, that she lost me.
– Too few anecdotes: I wish she had packaged her key message "growth and stability are not mutually exclusive" into a memorable anecdote or picture.
– Call for action: At the end of her speech she could/should have had a call for action.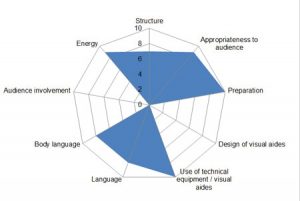 Did what she said convince me? Not entirely. For me it was too general and too high level. As Christine Lagarde said: "The proof of the pudding lies in the eating." Hope dies last.
All in all she made a very confident, eloquent and elegant impression on me.
How did Mrs. Lagarde fare on the Skipwith Radar, a measure for presentation skills?
Listen to the speech at www.siaf.ch.
Interested in public speaking and presentation skills? Check www.thomas-skipwith.com for presentation training and presentation coaching.
https://thomas-skipwith.com/wp-content/uploads/2012/05/20120507_siaf_christine_lagarde.jpg
283
425
Thomas Skipwith
https://thomas-skipwith.com/wp-content/uploads/Logo-Thomas-Skipwith-white-3.png
Thomas Skipwith
2012-05-08 08:35:29
2022-09-14 13:40:43
Christine Lagarde: Hope dies last