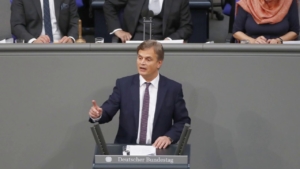 AfD politician Bernd Baumann makes a Nazi analogy – at the first speech in the German Bundestag. Doing so he surely convinced his followers. In his speech, Baumann criticized the decision made at the end of the previous legislative period to appoint the senior president according to years of service rather than years of life. With the aim of not allowing an AfD deputy to open the first session of the Bundestag.
"Only in 1933 did Hermann Goering break the rule because he wanted to ostracize his political opponent. Do they want to go down such a slippery slope? Come back to the line of the German democrats," Baumann stressed. A rhetorically really well prepared speech, in which Baumann is supported by the regular applause of his party members. Even more: in his speech, the politician also addresses the press reports according to which this decision "does not cast a good light on the parliamentary culture in Germany" (Focus). And this despite the fact that the press "is not in the majority favorable to the AfD," according to Baumann.
He cleverly takes elements from German history and tradition as supporting arguments for his point of view.
Repetitions and conclusion
"How big? How great must the fear of the AfD be?" Baumann repeats. The icing on the cake is the conclusion of the speech: In just one sentence, Baumann lists all the issues that are important to his party. "From this hour on, issues will be renegotiated here. … In future also about the euro, gigantic borrowing, gigantic immigration figures, open borders and increasingly brutal criminality on our streets, ladies and gentlemen," Baumann says.
What can you take away from this for your own presentations?
Use analogies, including those from your country's history.
Do verbal judo and take an accusation you are often given and turn it around.
Make sure you have people in the audience to support you.
Summarize everything again in one last sentence.
Click here for the video in which Bernd Baumann, AfD, pulls the Nazi card.
If you like this post, please share it on social media like Facebook, XING and Co.
https://thomas-skipwith.com/wp-content/uploads/Bernd-Baumann-Nazi-Karte-2.jpg
720
1280
Thomas Skipwith
https://thomas-skipwith.com/wp-content/uploads/Logo-Thomas-Skipwith-white-3.png
Thomas Skipwith
2018-01-05 14:00:53
2021-08-06 21:28:19
A Nazi analogy made by the AfD