Tons of employees are currently condemned to working from home. That's why countless video conferences take place with Zoom or MS Teams – for business and pleasure. In my opinion, Zoom is often used, and rightly so. Because Zoom is easy to use and offers a very stable connection according to my own experience. I have participated in many video conferences with Zoom and found that it would be nice if participants took a few points to heart to make the virtual session more enjoyable. Because a video conference is also a presentation. Simply online instead of offline – with some peculiarities.
3 tips that will surely help you:
Virtual background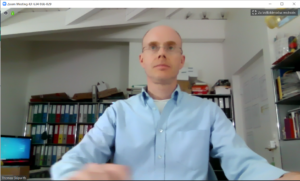 In Zoom (and since December 2020 also in MS Teams) you can define a virtual background. Thanks to the virtual background, you don't need to clean up your office (see the picture above), nor do you need to see anyone scurrying around behind you.
There are 2 ways to activate the virtual background.
(a) Through the setting of the program or
(b) Start a Zoom Meeting.
– Move the mouse to the bottom of the window.
– The menu bar will appear.
– To the right of the button with the camera icon, click the small arrow.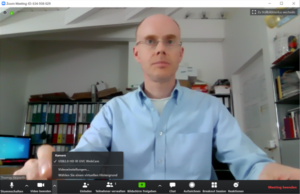 – Then you select the text "Choose a virtual background". (See center image)
And ta-ta: you can choose a virtual background or upload it yourself.
You can even choose small videos as a virtual background. However, I am of the opinion that this is just a gimmick. As usual, nothing should detract from your presentation or contribution. A video does that. That's why I leave it out.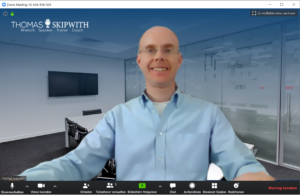 Clothing
"Clothes make the man." This saying is also valid for video conferencing. Therefore, also look professional during online meetings. A baggy sweater probably doesn't make a very good impression on your customers either. And by the way, there are people who feel better when well dressed. If you feel the same way, you have a second reason to dress well.
Eye contact
Finally, the most important tip for today: Look into the camera. The camera is your audience! The participants at the other end are (hopefully) looking into their camera. Only when you speak to the camera do you make eye contact with them. At the beginning it is difficult and unusual to talk only to the camera. But again, practice makes perfect.
I wish you much success for your future video conferences and online meetings. I'm sure we'll be communicating online via video conferencing more and more in the future. More tips to follow.
Stay tuned and stay healthy!
Thomas Skipwith
P.S.: You can find all the tips and tricks you need for online meetings in the book "Online-Meetings" by Thorsten Jekel and Thomas Skipwith.
https://thomas-skipwith.com/wp-content/uploads/Mit-virtuellem-Hintergrund.png
1135
1744
Thomas Skipwith
https://thomas-skipwith.com/wp-content/uploads/Logo-Thomas-Skipwith-white-3.png
Thomas Skipwith
2020-04-02 13:59:15
2022-10-26 10:44:43
Video conferencing with Zoom: 3 tips (part 1)