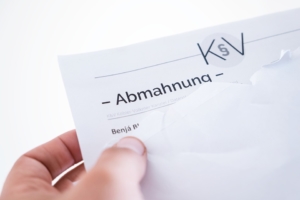 Whether I like it or not, there are law firms who earn their money with warning letters. I personally experienced this years ago in connection with my e-mail distribution list. Hence, warning letters are a serious topic not only since the GDPR has been introduced. What happened? One of my e-mail recipients did not simply unsubscribe from my mailing list (which, by the way, is always possible with a click at the end of my e-mails), but sent me a warning letter instead. The entire matter, including lawyer's fees and fees for the warning cost me over USD 1'000.-. If I'm not careful, this can similarly happen to me with pictures and especially cartoons for example, which I occassionally use in my presentations. So here are a few tips on how to protect yourself from warning letters about copyrighted material especially images.
Images are protected by copyright
Basically, all pictures (and all other content) are protected by copyright. Fortunately, there are also several pictures that can be used free of charge and royalty free in your presentations. The magic keywords are "free" and " royalty free".
For the complaints not to turn out too harsh, I have collected 10 (not conclusive) tips for a successful 1st of August speech.
Royalty free and free
Royalty free is not the same as free. Royalty-free only means that you don't have to pay for recurring royalties. So it is quite possible that you pay a one-time royalty for an image, but never again afterwards, because the licensor grants you a license for an unlimited period of time. This is common on sites such as www.getty-images.com, www.istockphoto.com and www.fotolia.de.
If you don't want to pay for an image, you should make sure that it is both royalty-free and free. In technical jargon, royalty free is also equated with the abbreviation CC0. CC0 stands for "Creative Commons" and means that it is material to which no right at all exists or is claimed and can therefore be used for everything. There are numerous image databases that offer their images under the CC0 license. Good examples are: www.pixabay.com, www.unsplash.com and www.pexels.com. It is best to briefly read the terms and conditions of each page.
Image search with Google
Google has a powerful image search function. As soon as you switch to Google, the image search is currently in the upper right corner (see screenshot: Bilder = images).
Via the search field you can now search for any pictures. Enter a search term and press Enter. Now you will see the search results. Here's the clue: Directly below the search field a menu bar with the word "Tools" will appear. If you click on it, a "Usage rights" (see screenshot: Nutzungsrechte = Usage rights) submenu is displayed (and only then). Select the option "Labeled for reuse".
This keeps you on the safe side of any copyright infringements.
Why pay for images?
You might ask why someone should pay for an image when both royalty-free and free images are available. The answer is simple: The paid pictures are often better, especially if you want people in the picture. Furthermore, it is much more likely that your image has not already been used uncountable times by others. For example, for the book "To catch fish, use the right bait. Scroing a s a speaker with Power Presentations" we did buy some pictures.
Citation / attribution
Even if the picture is free of charge, copyright law stipulates that the source (the author) hast to be mentioned, i.e. you have to mention the photographer's name. From the photographer's point of view, this is quite understandable: he wants to be named and may receive an order in this way (for other, chargeable pictures). Exceptions: On Pixabay (www.pixabay.com), for example, it says that most images do not require image attribution.
By the way, copyright law in Germany says that the photographer's name must be mentioned right next to the picture.
If you stick to these tips, you will be happy to show pictures during your presentations and will be free of warning letters along the way. I wish you success.
If you like this blog post, please feel free sharing it in social media like Facebook, XING and Co.
https://thomas-skipwith.com/wp-content/uploads/Logo-Thomas-Skipwith-white-3.png
0
0
Thomas Skipwith
https://thomas-skipwith.com/wp-content/uploads/Logo-Thomas-Skipwith-white-3.png
Thomas Skipwith
2018-07-03 09:50:52
2018-07-03 11:31:06
Free images from the Internet - Caution: warning letter!