The Terminator comes on velvet paws …
Shall I, shall I not … Sometimes two hearts beat in my chest about whether to analyze a video with a political content for the readers of my blog. However, I am less concerned with the political content, although in this case I agree with it, but much more with the rhetorical devices that the speaker employs. I want to address how the speaker tries to reach and convince his audience. The rhetorical tool, which is the subject of the following video, is also very useful for business and private life.
Check out the video below: The Terminator (Arnold Schwarzenegger) comes along on velvet paws. In technical terminology, this is referred to as captatio benevolencie. The speaker, in this case Schwarzenegger, first tries to win the goodwill of his audience.
How does the beginning of his speech affect you? Do you think that's how he wins the goodwill of those he wants to reach?
If so, how can you make this technique work for you at your next business meeting, for example?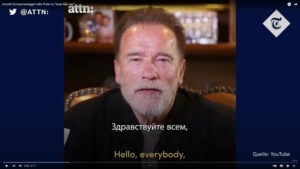 I wish you a lot of knowledge.
Task:
1. watch and listen to the video.
2. at your next business meeting, also try to win the goodwill of the audience first.
3. pay attention to other rhetorical devices that Arnold Schwarzenegger uses.
If you need support for your next presentation, I'm ready for you.
If you would like to receive tips and tricks regularly by e-mail, then sign up for the training newsletter – but everything is confidential:-).