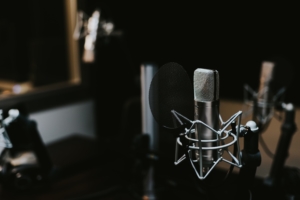 There are still too many bad online meetings and video conferences even after many months since the start of the Corona Crisis and correspondingly much practice with home offices. That's why I'm also sharing more tips on how to make online meetings better in this post.
Imagine you are watching the news on TV. The daytime newsreader looks into the camera, comes into your living room razor sharp and the sound is flawless. That's exactly what online meetings are all about. Consequently, three tips on how you too can look better during online meetings.
Make sure the picture is in focus. Unfortunately, this is not possible with a cheap webcam, which has been installed in many laptops. That's why I recommend an external webcam. A recommendable webcam is for example the Logitech C920. Even though it is currently (May 2020) not in stock in many places.
The lighting is at least as important as the camera. Make sure the lighting comes from the front. There should be enough light, but not too much either. A no-go is the window behind you. This way you are (almost) black on a white background. Daylight is often difficult because it changes unexpectedly in many cases. Therefore, additional artificial lighting can be helpful. A colleague has shown that sometimes a simple reading lamp can be enough. If you like it more professional, light not only yourself, but also the green screen. This way you have a lighting that is almost studio quality.
Sound is often underestimated. Same issue as with the cameras already built into laptops: the hardware, in this case the microphone, is not of particularly high quality. It is also worth buying an external microphone for the sound. There are several possibilities. You can take a podcaster mic. That's certainly a good choice. In addition, there are headsets. With wireless headsets, however, you have to keep in mind that you will be exposed to the Bluetooth radiation of the headset for hours. I've already gotten an earache from it.
Whatever you do, make sure you get a good picture – also thanks to good lighting – and a good sound.
I wish you much success for your online meetings and video conferences. Keep at it and most importantly – keep being healthy!
Thomas Skipwith
P.S.: Check out the book "Online Meetings" by Thorsten Jekel and me. There you will find all the tips and tricks you need. If, in addition, you want to practice, here's more info.
https://thomas-skipwith.com/wp-content/uploads/jonathan-velasquez-c1ZN57GfDB0-unsplash.jpg
1707
2560
Thomas Skipwith
https://thomas-skipwith.com/wp-content/uploads/Logo-Thomas-Skipwith-white-3.png
Thomas Skipwith
2020-05-18 12:58:43
2022-10-26 10:42:25
Online meetings and videoconferencing: How it works (Part 3)